History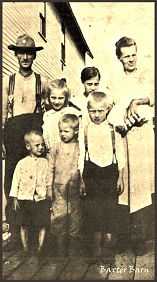 THE BAXTER FAMILY with Baby Bill in mother's arms
We researched the farms history, which led us to the Baxter family. We told them our dreams and they shared many of their memories with us. They are direct descendants of the original settlers who arrived in 1875. The first Baxters came to Fall City from Ohio on a wagon train. Their stories illuminate the struggles of their journey to the Northwest.
Bill Baxter married Eileen Ambold in 1933. The Ambold family came from the South where they had made their money from the oil fields. The Ambolds moved to Fall City in 1931 and bought a 200-acre farm on the Issaquah-Fall City road.
Eileen and Bill Baxter started their farm on the far northeast corner of the original 200 acres. They moved the wood from a 100 year old chicken coop on the original farm to make a barn for their 2.5-acre farm. That 2.5-acre farm is now our home.
We have enjoyed our research and hard work and wish to share this amazing heritage with others.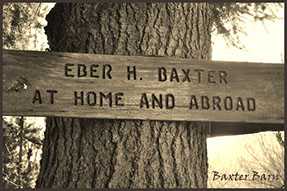 Replica made by Cory Huskinson at the "end of Eva Street" (44th@Baxter Barn)
Eber H. Baxter was the first blacksmith here. The sign over the shop on the knoll near Hoover's proclaimed that he was "Eber H. Baxter At Home and Abroad." His work included Fall City and its neighboring communities. A blacksmith repaired farm implements, wagons and wagon wheels, and shod oxen and horses.
Top 12 Historical Facts of the Baxter Family in Fall City
Eber H. Baxter was a preacher until his death of which there is no record
1875: They were the tenth family to settle in Fall City
1875: Eber H. Baxter was the first black smith
1882: They were one of three families to start the Hop Growers Association for the valley (1,200 acres)
1881: They hosted the first community Christmas dinner
1885: They were considered the "Center of the Community"
1885: They donated land for the first church
1914: Walter Baxter was part of a Community band
1944: Buck Baxter served his country in the Armed Forces
1952: Tommy Baxter was one of the winners in the Cub Scout Soap Box Derby
1986: Bill and Eileen Baxter were the Grand Marshals of Fall City Days
Baxter Barn's History with Mountains to Sound Greenway, By Cory Huskinson. A great story how the Baxter's arrived in Fall City and helped the Parkers (Lena Huskinson's great grandmother Lena Parker) settle in Fall City. Click HERE to read more about it.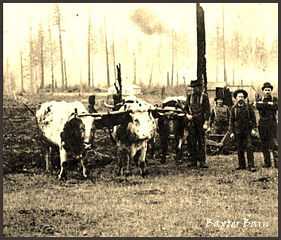 FARMING WITH OXEN on the Baxter's Homestead