News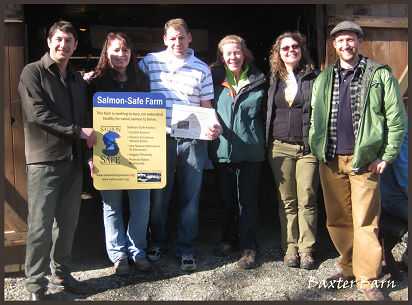 Larry Nussabaum (Program Director Stewardship Partners), Missy and Cory Huskinson (Owner), Kristi McClelland (King County Forester), Jen Harrison-Cox (Executive Director PRKC), Joshua Monaghan (KCD Agriculture)
August 2017: Baxter Barn. Welcome to Baxter Barn, where a mixture of live animals and whimsical creatures greet visitors at the entrance to the farm. Baxter Barn is one of those well-kept secrets in Fall City. It is a family-owned-and-operated farm and feed store. Valley consumers, look no further: we have everything we need in our own backyard! Click HERE to read more about it.
February 1, 2011: Baxter Barn is Your Farm, Each year, there are fewer farms in King County. Our remaining farmers still are working hard to provide local food and make a living; but for every piece of farmland that disappears, so do other valuable resources and benefits. Farms give us an unparalleled abundance of natural resources; providing quality local food, wildlife habitat, open spaces, and supporting clean water. Click HERE to read more about it.
December 1, 2010: Community Steward: Cory Huskinson, If you'd met Cory Huskinson three years ago, you'd never guess that he'd be the one convincing his neighbors to work with King CD. "I think Cory would agree that he was a handful to begin with," says Marcie Myers, the farm planner assigned to develop his farm plan. "He told me straight away that he didn't like the government." Click HERE to read more about it.
September 21, 2010: Holding fast to the farm life, in the Seattle Times. Three years ago, Cory Huskinson and wife Lena Huskinson purchased Baxter Barn and the surrounding two and a-half-acres from the Baxter homesteader family, who had owned the land since 1875. The Huskinsons restored the barn and now operate the property as a working historical farm designed to educate the public on good farming and watershed practices. The Baxter Barn is home to miniature donkeys, horses, chickens, quail, pheasant, turkeys and bunnies and also sells eggs with the salmon safe designation. Click HERE to read more about it.
August 2010: Kids + Computers + Rural Conservation = Green Technology, in the PRKC Post. My name is Pratik Vaidya. I'm an 8th grader at Beaver Lake Middle School. In 4th grade, I started becoming interested in technology. I started playing around on computers, taking pictures of nature (sunsets, animals, mountains etc.), editing these pictures and creating movies out of them. Also, I started hiking and backpacking where I learnt to value and appreciate the countryside even more. Over the years, I also started building websites to put up these pictures and write blogs on nature. Click HERE to read more about it.
August 3, 2010: Baxter Barn, In the Fall City Neighbors. It's another day of summer vacation. You want to do something both fun and educational with the kids but don't feel like driving all the way to Seattle—hop on your bikes and ride over to Baxter Barn! The King 5 Best of Western Washington and Northwest Escapes describes Baxter Barn as "A unique opportunity for the public to experience history, conservation, sustainability, community and a real live working farm." Click HERE to read more about it.
June 2, 2010: Fall City farm plans shower for baby donkey, In the Valley Record. Fall City's Baxter Barn hosts a baby shower for its just-born miniature donkey. Click HERE to read more about it.
June 1 2010: Fall City's Youngest Watershed Steward, in the Fall City Neighbors. On Earth Day, at Fall City's Baxter Barn, a giant salmon named Squirt handed out certificates to grinning third grade students from Fall City Elementary School the kids were now officially Watershed Stewards. Click HERE to read more about it.
May 18, 2010: New Donkey at The Baxter Barn born, in the Fall City Neighbors. May 18. Six year old Momi is the proud mom. Click HERE to read more about it.
May 2010: CERTIFIED SALMON-SAFE FARMS/FALL CITY'S YOUNGEST WATERSHED STEWARDS, in the PRKC post. To date, more than 60 Puget Sound farms have been certified Salmon-Safe. The most recent addition is Baxter Barn, a SiA flagship property. Click HERE to read more about it.
April 2010: Native Plants PLANTED Here! PRKC VOLUNTEERS BIRTH "BARE ROOT" BABY NURSERY, in the PRKC post. Every November, the King Conservation District [KCD] sells inexpensive ― bare root native plants to municipalities, organizations, and private residents for restoration projects & landscaping. This year, PRKC purchased $100 of hardy native plants and KCD matched our purchase for SiA restoration projects on the Raging River. Click HERE to read more about it.
February 20, 2010: Stewardship Partners presents Baxter Barn as certified Salmon Safe. Salmon-Safe works with farmers to encourage the adoption of ecologically sustainable agricultural practices that protect water quality and native salmon. Operations endorsed by our independent professional certifiers are promoted with the Salmon-Safe label. Click HERE to read more about it.
February 09, 2010: Healthy farm, good neighbor: Conservation plan helps historic Fall City acreage, in the Valley Record. For Fall City resident Cory Huskinson, the reason for adopting a King Conservation District Farm Plan is splashing in the creek outside. When he moved to the neighborhood, salmon were battling choking weeds and barbed wire in Huskinson's neck of Patterson Creek. "They were fighting," he said. "It was hard for them to spawn with all that blockage in the creek." Click HERE to read more about it.
November 16, 2009: King County Council Renews KCD Assessment. The Metropolitan King County Council today approved a three-year agreement with the King Conservation District for natural resource protection efforts throughout King County, and renewed a special assessment to provide funds to support those efforts, which include recovery of endangered salmon runs and assistance to farmers. "Restoring habitat for Chinook salmon benefits all citizens of King County," said Councilmember Dow Constantine, chair of the watershed planning effort in the Green/Duwamish watershed (WRIA 9). "This assessment is an important step in fulfilling our region's salmon recovery obligations." Click HERE to see PRKC Board Member, Cory Huskinson's, testimony.
November 03, 2009: Mini-donkey named Valley Record's 'Cutest Pet', In the Valley Record. It was a tough choice, but one cool critter rose above the rest in the Valley Record's 'Cutest Pet in the Valley' contest. Kahu, a two year-old miniature donkey owned by Cory Huskinson of Fall City, was selected by a vote of newspaper staff. According to his owners, Kahu follows them around all day, and loves dog toys. Kahu is a jack, or male donkey. He has four jenny donkeys for company and is expecting babies this spring. Other pets in the contest included Dusty, Click HERE to read more about it.
March 10, 2009: King County Agricultural and Forestry Program recipient of King Conservation District's "Rock Award." The King Conservation District (King CD) announced that the King County Agricultural and Forestry Program is a recipient of the district's "Rock Award" as "Best Partnering organization" in 2008. The awards program recognizes programs, municipalities and individuals that have demonstrated service and leadership in conservation efforts within the district over the past year. Click HERE to read more about it.
November 2008: Green Living in the Valley: Conservation in fall City with King Conservation District, in Fall City Neighbors. In our wonderful town of Fall City we have a rich history of settlers who worked very hard over the years to make the land useable for farming, pastures, kitchen gardens and means necessary for living. Many land owners have been able to continue the care and traditions and we all enjoy the rural character it helps bring to our area. Click HERE to read more about it.