Support an Animal

A Unique Opportunity to Become Involved with Baxter Barn
If you would like to experience the joy of working with animals on a farm, we are offering opportunities for you to do so by supporting them with your time and energy; contributions accepted too.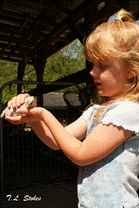 Whether it is just one animal or several, you can become personally involved with them as one of their caretakers by doing any or all of the following:
Brushing and petting the animals
Helping to clean stalls, confinement areas, tack
Feeding the animals if you are around at feeding time
Walking the animals
Helping to train the animal by simply walking them in the round pen
We have saddles and a cart for the donkeys (when agreeable by all parties)
Helping with the cost of their maintenance
Using The Grange in Issaquah gift certificates for feed
This is the perfect opportunity to teach any age responsibility in a loving environment.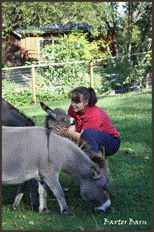 Here is an estimate of what it costs in a month for the proper care, food, shelter, bedding, and vet checks of our farm animals:
Supporting an Animal
Quail: $5
Chicken: $10
Pheasant: $15
Donkey: $25
Horse: $50
Supporting a Group of Animals
Bevy (A Bevy of Quail): $74
Brood (A Brood of Hens): $100
Nide / Nye (A Nye of Pheasants): $125
Flock (A Flock of Birds): $150
Herd (A Herd of Animals): $200
Our farm is a 'Salmon Safe" farm, a conservation decision on our part to keep our streams protected. A percent of the contributions goes towards protecting the water and maintaining the native vegetation that provides filtration of water and shelter.